FREAK combines cutting-edge multiplayer games, incredible 4D effects and curated physical spaces to take you beyond reality.
BOOK NOW
CHRISTMAS SPECIALS
Save up to $59!*
VIRTUAL FREE ROAM
For the brave, adventurous or outright crazy! Up to four players walk around with absolute freedom of movement while exploring parallel universes, solving challenges or fighting for survival.
VIRTUAL ESCAPE ROOMS
Grab your mates and step beyond reality, exploring exciting new worlds, solving puzzles and unlocking secrets! Put your thinking skills and teamwork to the test: will you escape in time?
FREAK DRIVE
Become the ultimate driver in the most authentic, intense and technically-advanced racing game on the planet with FREAK Drive! Experience a new era of motorsport simulation today.
VIRTUAL ARCADE
In your own personal VR Pod, experience over 30 of the world's most incredible VR Arcade games. Play Job Simulator, Fruit Ninja, Space Pirate Trainer, and much, much more!

VR LASER TAG
Laser Tag like never before. In Tower Tag, become robots in the night sky and jump between tower and tower to fight! In Versus Laser Tag, roam around the Free Roam Arena and zap your friends away!

ALL ABILITIES
If you, or someone you know, is living with disability and wants to experience the magic of VR, we can help! Our experiences are accessible and our staff are ready to help. Find out how!

HOUSE OF FEAR: CURSED SOULS
Genre: Horror Escape Room
WARNING: Strong Horror Themes!
A house with a suffocating atmosphere… rapidly flickering lights and intimidating noises emanating from the walls, though no one is inside. Eerie whispers. Sudden angry shouts. Shadows moving in the darkness.
A mysterious and brutal murder in a small town shocked the locals. Rumor has it that one night, occultists killed the entire family and cursed their souls, imprisoning them forever in the walls.
Can you solve this intricate mystery? Are you truly ready to explore every corner of this dark and gloomy place to free the poor unfortunate souls of the family? Think long and hard. Should you fail, your soul will join the rest in The House's walls for eternity.
Ages: 16+     Players: 1 – 4      Difficulty: Hard
SCARYGIRL: MISSION MAYBEE

Prepare your team for a journey through an enchanted forest to take down the Maybee Corporation, run by the maniacal Dr Maybee himself! He will stop at nothing to create the perfect species. The by-product of his twisted pursuit is hazardous goo that has poisoned plants and animals and ultimately will cause the destruction of the entire planet.
Enter the world of Scarygirl, the visual novel that took the internet by storm, and team up with Arkie and her friends to put an end to Dr Maybee's wicked deeds
Ages: 8+       Players: 1 – 4      Difficulty: Easy
JUNGLE QUEST

During a walk in the park, you found a portal that leads to the mysterious world. An amazing sanctuary populated by animals appears in front of you. But how do you get back?
To find the way home, you'll need to work together to solve a series of puzzles, explore the mysterious world's flying islands, and discover more about its incredible inhabitants.
Ages: 12+       Players: 2 – 6     Difficulty: Easy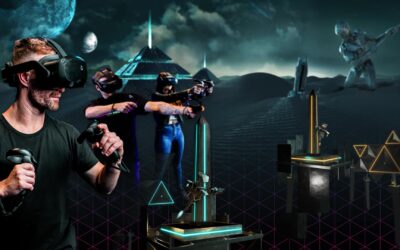 Lasers light up the sky! Black Friday doesn't only have to be about buying the latest gadgets or the hottest fashions trends. Instead, get stuck into a virtual reality experience like no other! We're offering a Black Friday and Cyber Monday exclusive deal! Step into...