EVERYBODY IS WELCOME
Virtual Reality is for everyone. At FREAK VR, we take all possible steps and precautions to ensure our experiences are available to everybody, regardless of physical or mental attributes.
FREAK proudly offers a 50% discount on our Basic, Value or Ultra games to people living with disability and carers! For information on group or party packages, contact the appropriate venue manager. 
PLAYER WITH A DISABILITY:
Inform FREAK Staff of your accessibility requirements when making your booking, so we can help you experience the awesomeness of VR. We offer a 50% All Abilities discount, too!
CARERS CAN PLAY TOO:
Carers are also provided a discount when attending with a person with a disability. A carer's card must be displayed to staff upon arrival.
HOW TO BOOK:
Use the enquiry form below to send us an email, call any of our locations to speak to our friendly staff, or visit us in-store!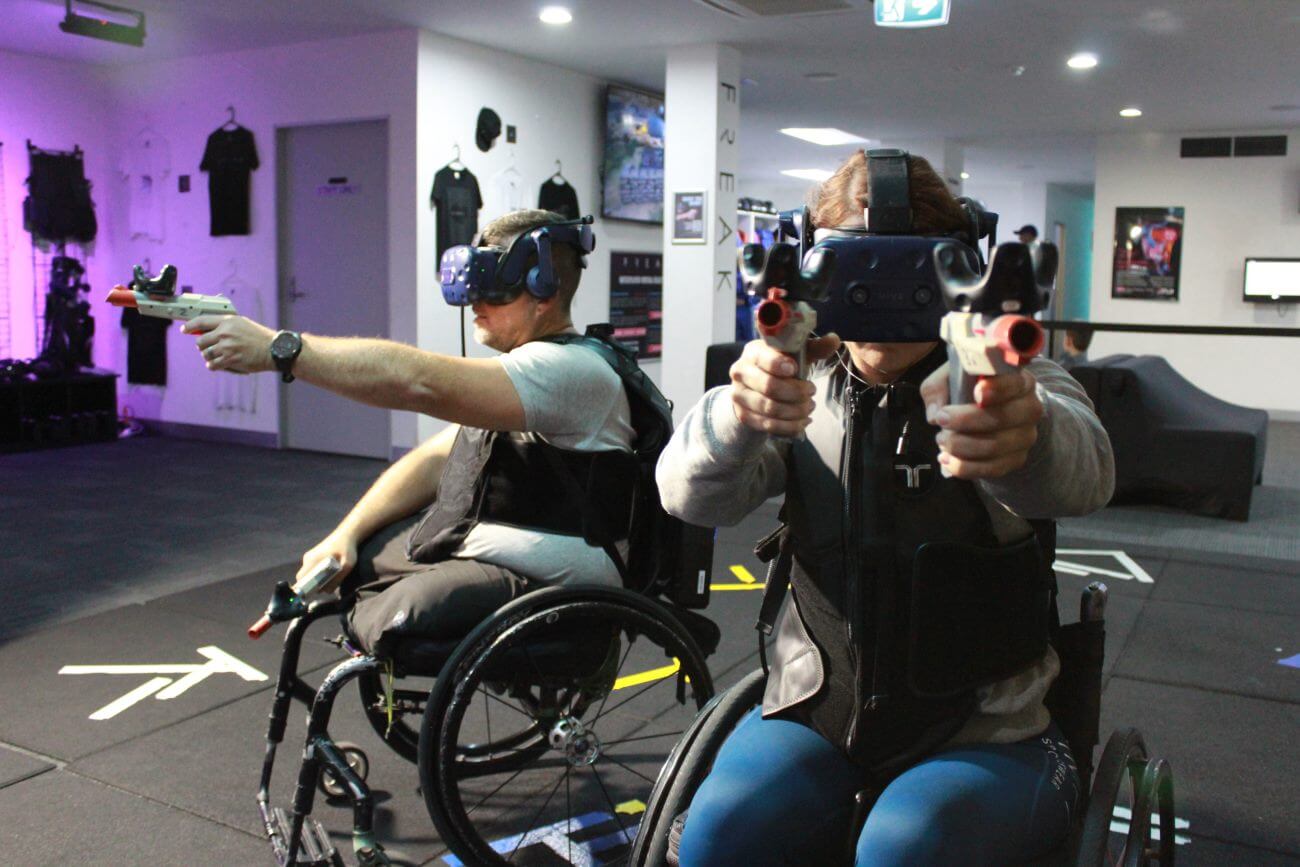 Please note, All Abilities discounts are valid every day across all FREAK venues, and are subject to the same availabilities as other bookings, therefore, you may be playing at the same time as other players.
If you or your player(s) require special consideration, please let our friendly staff know, and we will assist in any way we can. We strive to maintain a safe and fun environment for all players.
How can I play?
Almost anybody can play Virtual Reality! Here, we will describe how people of any ability can access and play VR.
Wheelchair/Movement Impaired
Many VR games offer a "seated mode" option, for both particularly short people and those that are using a chair of any kind. This allows players using a wheelchair to experience the game in the exact same way as those that do not! FREAK's Arena is also wheelchair-accessible; our wireless technology means no extra equipment is required, and the size of the Arena gives plenty of space for wheelchairs to be used.
Low Vision
We have had a large number of players that require the use of glasses play VR both with and without them! Each headset has a built-in dial that allows the lenses inside the headset to be adjusted, giving space for spectacles should they be required. Thanks to the design of the lenses in the headset, people with vision impairments often find it easier to see through the headset than their own glasses! This varies person to person, so it's important to test vision through the headset first before purchasing a ticket to play.
Hard of Hearing
While there are some games that have gameplay based around audio, a vast majority of titles have music or sounds that do not impact gameplay, or are otherwise non-diagetic, and can be experienced just as well without audio!
Limb Difference
Players with limb differences can still play VR! There are many titles that do not require continuous inputs, such as roller coaster style games, virtual cinemas, and more. If assistance is required, staff are eager to help to ensure everyone is able to play!
Autism Spectrum
You may be surprised to learn that many gamers are on the autism spectrum – and that is perfectly OK! Video games provide an opportunity to learn, explore and play in a safe environment, and Virtual Reality takes that one step further by putting people in the game! Carers are encouraged to learn and join in the fun.
If a player with autism feels overwhelmed or overstimulated, staff are able to quickly stop the game and remove the headset, so players can take a short rest.